Build FOREX trading systems

WITHOUT

coding!

Create your own trading systems in

MINUTES

, not hours or days!

FORECAST

rate movements with neural networks

Identify strategies that fall apart in trading
BEFORE

you trade them!
Send trades to FXCM with

AUTOMATED

trading

SOME OF THE WORLD'S MOST RESPECTED FINANCIAL COMPANIES TRUST OUR TECHNOLOGY

Build powerful trading systems in MINUTES, not hours or days.
NeuroShell Trader's point and click interface allows you to easily create complex technical analysis indicators, trading systems and neural network market forecasts without coding of any kind.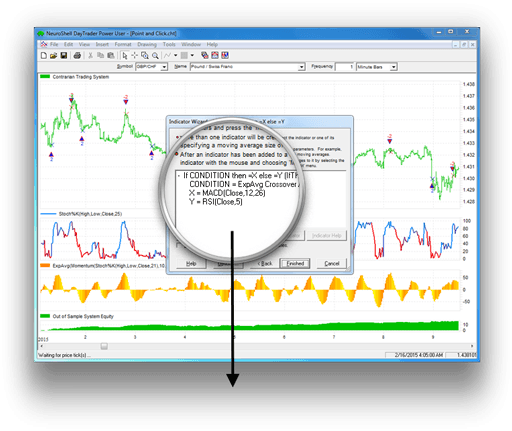 Use NeuroShell Trader's multi-layered wizards to quickly build complex trading logic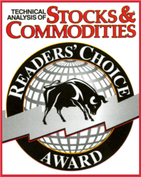 Voted


Best Artificial Intelligence Trading Software

"
for the last

16 YEARS

in a row!
Technical Analysis of Stocks and Commodities Magazine Reader's Choice Award
2003, 2004, 2005, 2006, 2007, 2008, 2009, 2010, 2011, 2012, 2013, 2014, 2015, 2016, 2017, 2018
Can't find good trading rules?
Use neural networks to PREDICT the best trading signals!

If you have a set of favorite indicators but don't have a set of profitable trading rules, the pattern recognition of an artificial neural network may be the solution. Neural networks analyze your favorite indicators, recognize multi-dimensional patterns too complex to visualize, predict and forecast market movements and then generate trading signals based upon those patterns, predictions and forecasts.
With NeuroShell Trader's proprietary fast training 'Turboprop 2' neural network algorithm you no longer need to be a neural network expert. Inserting a neural network trading system is as easy as inserting an indicator
Find out if your trading systems hold up in future trading BEFORE you trade!
Don't be fooled by trading systems that look great on paper, but lose money as soon as you start trading them.
Use NeuroShell Trader's paper trading optimization, out of sample backtesting and walkforward genetic algorithm optimization to automatically build models less apt to curve fit past data and confirm a system's ability to perform in future trading.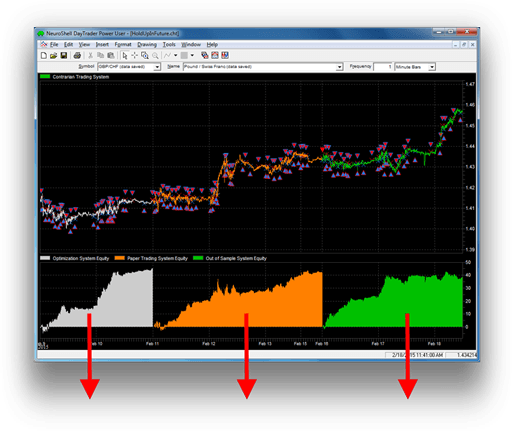 Optimized Equity, Paper Trading Equity and Out of Sample Equity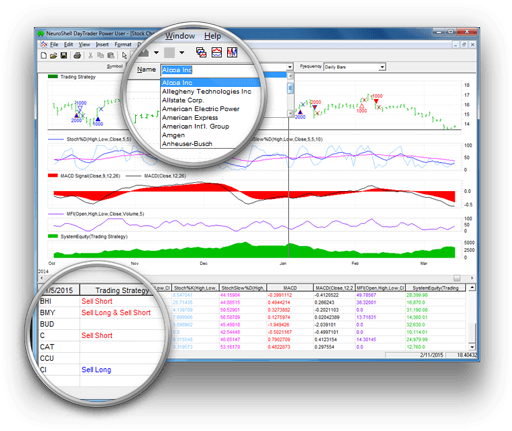 Quickly apply predictions and trading systems across your ENTIRE portfolio of forex currencies.
NeuroShell Trader and NeuroShell Day Trader charts can contain multiple chart pages, each of which references a different security.
Chart pages allow you to view and trade your trading systems across many securities at the same time. Indicators, trading strategies and neural network predictions added to the chart are individually backtested, optimized and applied across all of the securities at the same time.
If you add and remove chart pages on the fly, NeuroShell Trader will automatically backtest and optimize the added securities.
Designed for EVERYONE from novice to professional traders.
Whether you trade at night after your day job, day trade from market open to close or manage millions of dollars in a hedge fund, NeuroShell Trader and Day Trader have you covered.
NeuroShell Trader's indicator, prediction and trading strategy wizards, how-to video library, interactive tutor and extensive documentation make it quick and easy for the novice trader to analyze and trade forex.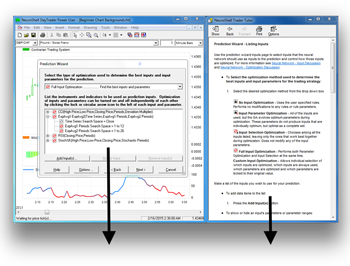 Wizards make adding indicators, neural nets & trading systems easy.  Interactive Tutorial updates with each new screen
For the advanced user hybrid models, panels of experts, pairs trading, portfolio models, market neutral hedging, cross market analysis, advanced money mangement, pyramiding, position scaling, market optimization, walkforward optimization, batch optimization, data exporting, dynamic link library indicators, custom data feeds and custom brokerage interfaces are all at your fingertips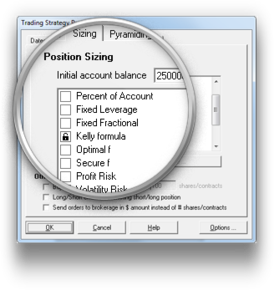 What Our Customers Are Saying
"Not only is this one of the most powerful trading tools I have ever encountered (and I've tried most of them), it is also the easiest to use."
– Sebastian Fainbraum
"The ability to build trading systems is so simple. Strategies that require involved programming in other software can be quickly constructed in a 1+1=2 manner."
– Tim Harbort
"In 15 years of trading experience and customer of several tools over the years, NeuroShell Trader support exceeds my expectations every time."
– Bob McRae
"I own Neuroshell Day Trader Power User plus four of the add-on modules. I have used Neuroshell Trader to create several robust trading systems based on complicated setups and analysis. Because of Neuroshell's ease of use you quickly go from learning how to use the product to creating your trading strategies. It is the most intuitive trading system I have used and offers a substantial number of available indicators. I willingly admit that Neuroshell's limitations are my capabilities as a trader. A creative mind will thrive using this amazing system and I absolutely depend on it."
– Bruce Pankratz
"I have tried a lot of other packages, but there are few tools that give you the flexibility to design, optimize and implement like NeuroShell Trader."
– Eric Hoyle
"The software has more capabilities than I will probably use, but it is easy to use even for this farmer from the midwest, who has not studied math for 35 years."
– Kermit Johnson
"Finally able to run the kinds of tests I have wanted to for years, but which simply took too long to be viable."
– Daniel Beveridge
NeuroShell Trader Forex
The most powerful, yet easy to use trading software available!